Whether you want just a quick flip or to add to your portfolio of long-term investment properties, you can rely on The Paul Augustine Team's pragmatism to guide you toward sound, responsible real estate investment decisions. Our role is to help you identify properties that will help you achieve your strategic investment objectives.
Exceptional Service for Property Investors
Continuous Communication:

Based on your preference, we'll call, email or text you at least once per week to discuss progress, review any changes to your circumstances and market conditions, and ensure we're meeting your expectations.
Home Pro Network:

Enjoy access to The Paul Augustine Team's network of qualified home professionals including home inspectors, movers, mortgage professionals, handymen, general contractors, plumbers and electricians. We're available to consult with you about and resolve all your property concerns.
Shop Until You're Done:

Each week, we'll deliver a new list of homes that fit your budget and meet your standards. We'll also continue to tour homes until you're satisfied you've found "the one."
Want to see the Augustine Difference?
We strive to offer top class service, which helps us outperform the industry year-in and year-out.
FREE Property Investors Guide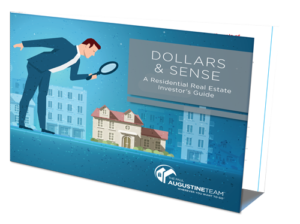 Don't let the TV fool you: Like buying stocks in a company, investing in real estate takes skill, foresight and creativity.
OUR PHILOSOPHY
To succeed in the business of residential real estate, it's important to select a realty partner who can check every box: area natives, respected local experts, holistic approach. The Paul Augustine team is comprised of lifelong residents of Bucks and Montgomery County; over a decade-plus, we've amassed a proprietary arsenal of local real estate intelligence, with a foundation in home renovation and construction. Combined, these qualities allow us to understand what the market—whether potential buyers, or future tenants—want in a property, and help you maximize upside potential.