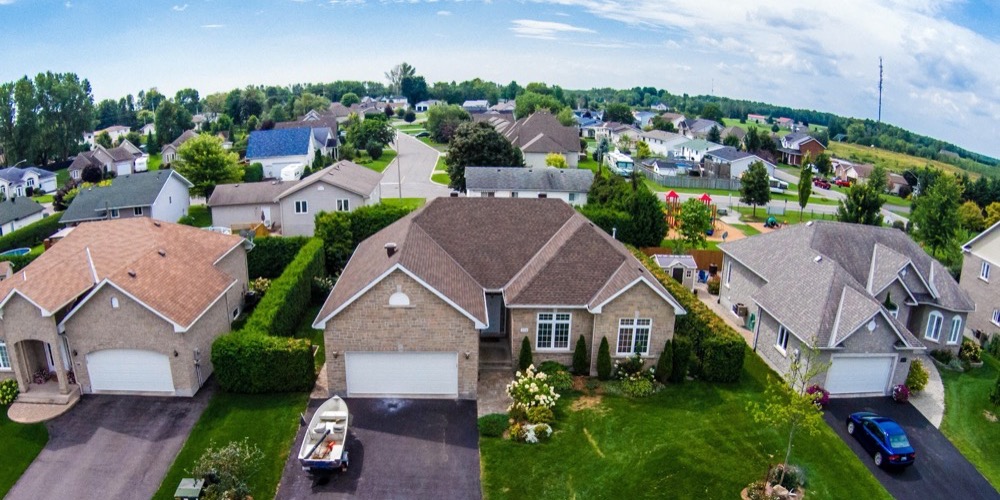 A History of American Homes: The Subdivision
American homes are in part a living history of the bygone era in which they were built. Older homes were designed according to distinct architectural styles, and often utilized materials that were readily available in a given area prior to the industrial revolution, or the later post-war housing boom of the 1940s.
A Shift in Demand
If you look at homes that were constructed prior to World War II, you'll notice they are generally situated on streets that are conducive to through traffic from one end of town to the next. You may go down one of these streets and notice that no two homes are exactly alike in their size, style, or design. The parcels of ground they sit on may be oddly shaped, with one house on a very small lot next to another that sits on a much larger one.
In the 1940s, several factors led to a dramatic shift both in the methods of construction for new housing and the design of the neighborhoods where they were located. There was a jump in demand for new housing in the beginning of the decade, particularly surrounding plants and factories that were involved in manufacturing for the war effort. Then, as the war came to an end, troops returning home needed a place to live and establish their families. And the means which enabled more rapid production of housing led to one of the most significant shifts in American architecture we have ever seen.
A Move from Traditional to Practical
Craftsman style bungalows and Foursquares, as well as Victorian-era homes, were labor-intensive structures — not suited to the demands of the 40s-era housing boom. It was then that Cape Cods and ranch or rambler style homes became prevalent. The "Minimal Traditional" style was easy to construct, and offered practical floor plans which met the Federal Housing Administration's (FHA) specifications for design and construction standards. At the time, FHA financing was a primary means of obtaining funding to buy homes, so the methods of construction were heavily influenced by their standards.
Another FHA specification had to do with the design of the roadways themselves. The idea of a "pass through" street was discouraged, so developers needed a new approach. And thus, the modern day subdivision was born.
The basic concept was that the new neighborhood would have an entry point on an accessible roadway, leading into a series of streets that would loop around on one another. This offered a second means of exit not directly connected to the means of entry, thereby discouraging the use of the subdivision as a thoroughfare.
A Large-Scale Production
One of the best early examples of this design is Levittown in Bucks County. In fact, it was here that modern day tract housing concepts were first implemented. Pre-cut lumber and exact quantities of other building materials could be ordered by the builders and subcontractors. Floor plans had consistent plumbing, heating and electrical rough in specifications such that once a tradesperson worked on one house, the next was incredibly similar. This created a "production line" pace of building unlike anything seen before in home construction, and allowed economies of scale that kept this new housing affordable for new homeowners, while staying profitable for the builders.
There is something to be said about the charm of the farmhouses on our rural hillsides and the wraparound porches of Stick Victorians on our Main Streets, but no one evolution had more influence on American Housing than the advent of the modern day subdivision.
Paul Augustine, Associate Broker at RE/MAX Centre Realtors